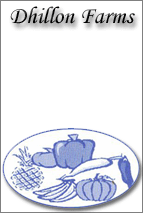 P3-P4 Western Int Market,
Hayes Rd, Southall, UB2 5XJ
Tel:0044 208 813 6200
Fax: 0044 208 848 1774
Dhillon Farms - We are the largest Fruits and Vegetables importers mainly from Ghana,India,Pakistan, . Apart from which we do import from Jordan Kenya, Uganda Brazil, Egypt and Europe also. We have our main ware-house DHILLON FARM VEG (UK) LTD at 9E Brent Road Southall UB2 5FB and operations from as below.


DHILLON FARM WESTERN LTD / DHILLON FARM VEG WESTERN LTD.
P3-P4 Western International market, Hayes Road Southall UB2 5XJ, UK


DHILLON FARM SPITALFIELDS LTD.
Stand 80 New Spitalfields Market Leyton E10 5SQ, UK


DHILLON FARM BIRMINGHAM LTD.
Stand 72, Birmingham Wholesale Market, Pershore Street, Birmingham B5 6UN, UK
We would be more than happy to supply you with your requirements.
Send your enquiries to dhillonfarmveg@yahoo.co.uk